KLI Colloquia are informal, public talks that are followed by extensive dissussions. Speakers are KLI fellows or visiting researchers who are interested in presenting their work to an interdisciplinary audience and discussing it in a wider research context. We offer three types of talks:
1. Current Research Talks. KLI fellows or visiting researchers present and discuss their most recent research with the KLI fellows and the Vienna scientific community.
2. Future Research Talks. Visiting researchers present and discuss future projects and ideas togehter with the KLI fellows and the Vienna scientific community.
3. Professional Developmental Talks. Experts about research grants and applications at the Austrian and European levels present career opportunities and strategies to late-PhD and post-doctoral researchers.
The presentation language is English.
If you are interested in presenting your current or future work at the KLI, please contact the Scientific Director or the Executive Manager.
Event Details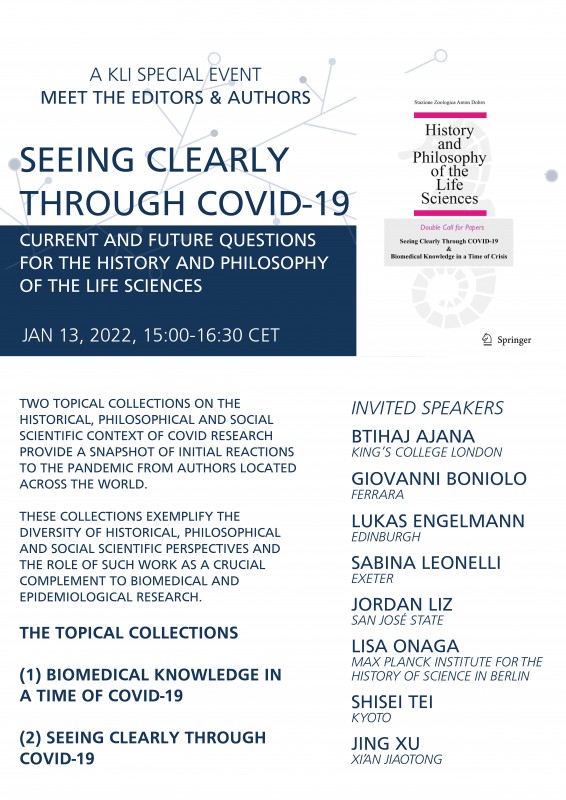 KLI Colloquia
Seeing Clearly through COVID-19: Current and Future Questions for the History and Philosophy of the Life Sciences
Meet the Editors & Authors
2022-01-13 15:00
-
2022-01-13 16:30
Online
Organized by KLI
Register in advance for this meeting:
https://us02web.zoom.us/meeting/register/tZEsdOiqqjsuE9dwdfMK0t7HvoWYJn6sG0xT
After registering, you will receive a confirmation email containing information about joining the meeting.
Between 2020 and 2021, the journal History and Philosophy of the Life Sciences curated two topical collections on the historical, philosophical and social scientific context of COVID research. The resulting 57 papers provide a snapshot of initial reactions to the pandemic from authors located across the world, thereby exemplifying the diversity of historical, philosophical and social scientific perspectives and the role of such work as a crucial complement to biomedical and epidemiological research. This session introduces the collections and reflects on their continuing significance as the world spirals further into crisis. URL of the collections:
(1) Biomedical knowledge in a time of COVID-19
(2) Seeing clearly through COVID-19
Speakers:
BTIHAJ AJANA is Professor of Ethics and Digital Culture at the department of Digital Humanities at King's College London. Her academic research is interdisciplinary in nature and focuses on the sociopolitical and ethical aspects of digital developments and their intersection with everyday cultures. She is the author of Governing through Biometrics: The Biopolitics of Identity (2013) and editor of Self-Tracking: Empirical and Philosophical Investigations (2018), Metric Culture: Ontologies of Self-Tracking Practices (2018) and The Quantification of Bodies in Health: Multidisciplinary Perspectives (2021).
GIOVANNI BONIOLO is Full Professor of Philosophy of Science and Medical Humanities, (Department of Neuroscience and Rehabilitation, University of Ferrara, Italy). Co-editor-in-chief with Sabina Leonelli of History and Philosophy of the Life Sciences. He works in the fields of the philosophy of biomedicine and its ethical implications (http://docente.unife.it/giovanni.boniolo)
LUKAS ENGELMANN is a Chancellor's Fellow and Senior Lecturer in the History and Sociology of Biomedicine at the University of Edinburgh. His research is currently supported by an ERC Starting grant and is concerned with the history of epidemiological reasoning in the twentieth century.
SABINA LEONELLI is Professor of Philosophy and History of Science at the University of Exeter, where she co-directs the Centre for the Study of the Life Sciences (Egenis). This year she is based in Berlin as a Fellow of the Wissenschaftskolleg. With Giovanni Boniolo, she is Editor-in-Chief of History and Philosophy of the Life Sciences.
JORDAN LIZ is an Assistant Professor of the Department of Philosophy at San José State University. His primary research focuses on contemporary genetic understandings of race and racial classifications; as well as studies on the genetic susceptibility of specific racial groups to certain diseases, such as cancer and diabetes. More recently, his research focuses on the impact of COVID-19 on racial minorities and other marginalized groups.
LISA ONAGA is a senior research scholar at the Max Planck Institute for the History of Science in Berlin and Associate Editor of History and Philosophy of the Life Sciences. She leads the "Proteins and Fibers" working group, which examines the multidisciplinary history of animal materials. Her forthcoming book, Cocoon Cultures: The Entangled History of Silk and Science in Japan since 1840 examines how the control of the environment and genetics of an insect for industrial silk manufacture underpins the history of the life sciences in Japan.
SHISEI TEI is a neuroscience researcher in the Department of Psychiatry at Kyoto University (Japan) and a professor at Tokyo International University. He works on issues related to empathy, social cognition, self-consciousness, and behavioral flexibility.
JING XU is an assistant professor at the department of sociology at the Xi'an Jiaotong University in China. Dr.Xu received her Ph.D. degree in energy and environmental policy from University of Delaware in the United States. Her research focuses on Chinese environmental policy and governance.
Download flyer here.