News Details
2021-03-09
The KLI 2021 Spring Colloquium is Here!
We are thrilled to announce the 2021 spring colloquium talks!
Please subscribe to our newsletter to receive notifications and registration links.
You can also find the registration links here on our event calendar.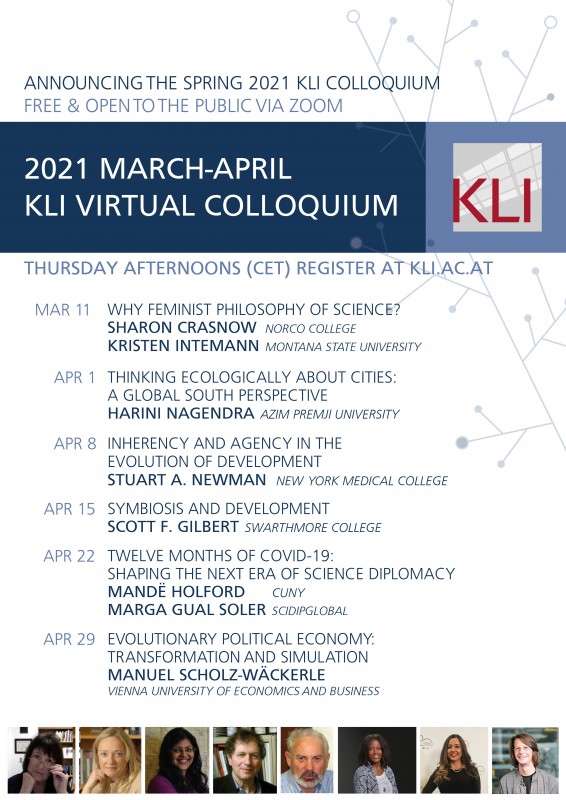 March-April Talks
March 11: Why Feminist Philosophy of Science?
with Sharon Crasnow (Norco College) and Kristen Intemann (Montana State University)
April 1: Thinking Ecologically about Cities: a Global South Perspective
with Harini Nagendra (Azim Premji University)
April 8: Inherency and Agency in the Evolution of Development
with Stuart A. Newman (New York Medical College)
April 15: Symbiosis and Development
with Scott F. Gilbert (Swarthmore College)
April 22: Twelve Months of COVID-19: Shaping the Next Era of Science Diplomacy
with Mandë Holford (CUNY) and Marga Gual Soler (SciDipGLOBAL)
April 29: Evolutionary Political Economy: Transformation and Simulation
with Manuel Scholz-Wäckerle (Vienna University of Economics and Business)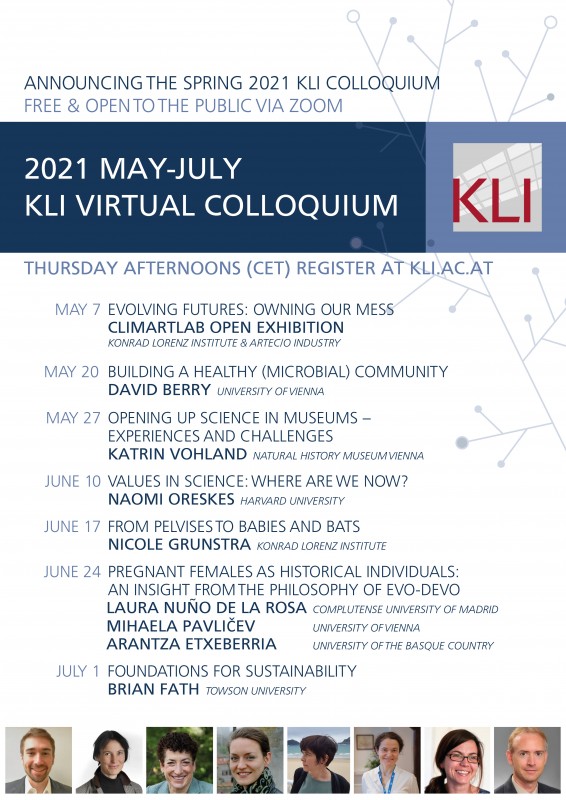 May-July Talks
May 7: ClimArtLab Open Exhibition of "Evolving Futures: Owning our Mess"
May 20: Building a Healthy (Microbial) Community
with David Berry (University of Vienna)
May 27: Opening Up Science in Museums – Experiences and Challenges
with Katrin Vohland (Natural History Museum Vienna)
June 10: Values in Science: Where are We Now?
with Noami Oreskes (Harvard University)
June 17: Multiple Approaches to Understanding Human Pelvic Evolution
with Nicole Grunstra (KLI)
June 24: June 24: Pregnant Females as Historical Individuals: an Insight from the Philosophy of Evo-Devo with Laura Nuño de la Rosa (Complutense University of Madrid), Mihaela Pavlicev (University of Vienna), and Arantza Etxeberria (University of the Basque Country)
July 1: Foundations for Sustainability
with Brian Fath (Towson University)